Wednesday, May 29, 2013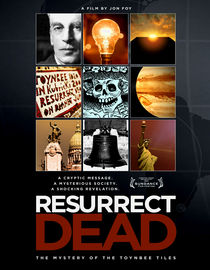 The documentary begins with Justin Duerr, an underground artist, and his obsession with the legend of the Toynbee Tiles.  The tiles have different subtexts, but they all have this in common:
TOYNBEE IDEA
IN MOVIE 2001
RESURRECT DEAD
ON PLANET JUPITER
Duerr first started finding them around Philadelphia.  He later learned that they were in other cities as well, including Boston, New York City, and Baltimore.  They even reached into South America.  Duerr began to learn new information about the creation and subtext of the tiles, and it fuels him and some fellow seekers to continue pushing on long after earlier tile-philes gave up.  Thankfully, the film picked up the pace just in time because I was beginning to lose interest.
Like many of Sean's punishments, this film does not end neatly.  The film alternated between very interesting findings and uninteresting facts.  The tile-philes find a realistic suspect and circumstantial evidence to back up many of the mysteries.  There is an interesting sub-story with the playwright David Mamet and a possible connection with the origin of the tiles.  I am not really sure how the film could have been changed to make it more consistently entertaining, but I feel like was only a little better than average.  If I was recognized for having a Roy's Stamp of Mediocrity, this would certainly earn it.
Rating: 3/5 Stars